This rig is designed to shoot high quality 3D stereo 180VR with mirrorless cameras. The rig is equipped with a slide plate that allows easy setup of the camera even if the camera is changed, as well as easy replacement of batteries, memory cards, HDMI and other cables.
The minimum IPD when using HAL 200 is 75mm, but it depends on the camera used.
The camera, lens, and lens support (silver parts) are not included.
Lens support is included with HAL 200 3.6mm lens and HAL 200 E 6.0mm lens.
Lens support is not included in HAL 200 EF 6.0mm lens. Lens Support (TM-02) is necessary separately.
Specifications
| | |
| --- | --- |
| Price | 198,000JPY(Tax-exclusive price) |
| Size | H:226mm W:265mm D:65mm |
| Weight | 2.3kg (Only Rig) |
| Material | Aluminum |
| Product Number | RIG-3D |
Lens Support for HAL 200 EF Mount (sold separately)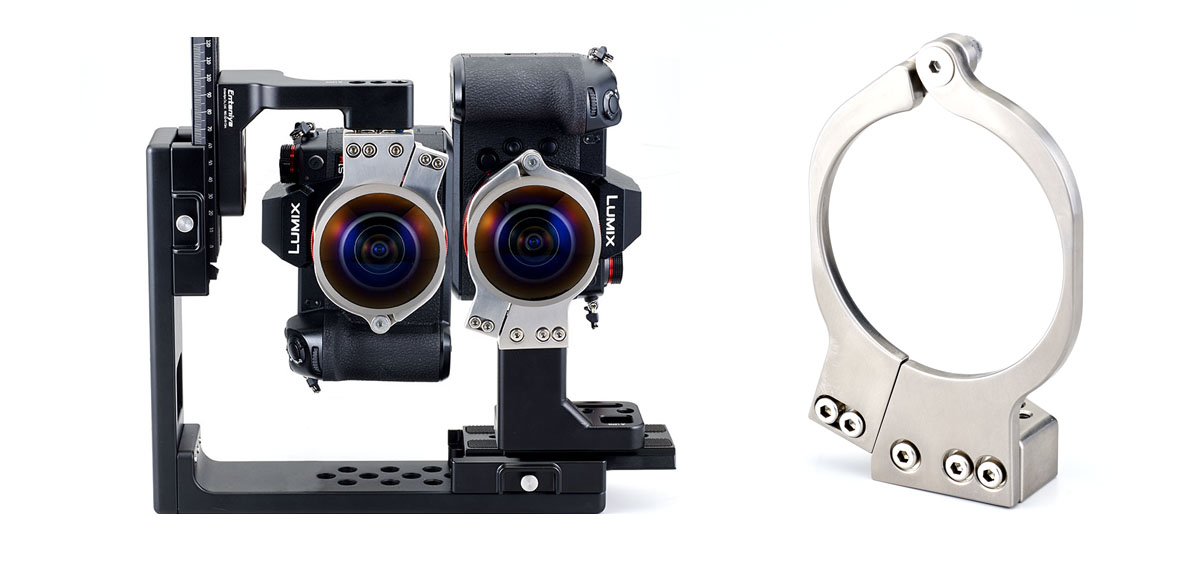 The HAL 200 6.0mm EF mount lens does not come with a lens support.
The Entaniya Rig 3D Stereo 180 VR requires a special lens support to attach HAL 200 6.0mm EF mount lens.
| | |
| --- | --- |
| Price | 60,000JPY(Tax-exclusive price) / Unite |
| Set Price | 298,000JPY(Tax-exclusive price) / Rig + 2 x Lens supports |
| Material | Titanium |
| Product Number | TM-02 |